Tank Repairs
50′ Dia. Steel Tank
Strengthening & Rehabilitation
Description:
The scope of work was to repair and strengthen a 50′ diameter steel tank by 160′ tall. The steel tank was operated by a pulp and paper plant. The tank wall had severe corrosion caused by the corrosive effects of the tank's contents.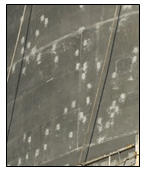 The tank was constructed of steel walls that were assembled in rings. The rings varied in thicknesses ranging from 3/4″ thick for the bottom and 1/4″ for the top rings. There were over 900 through holes in the tank. The tank was critical to normal plant operations.
Composite Solution: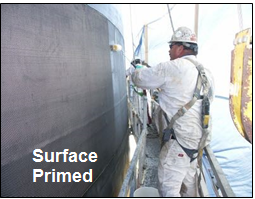 A carbon fiber composite system was designed to strengthen the existing steel tank. The installation work was performed with the tank in service. First, all holes in the tank were patched with thin sheet metal and epoxy.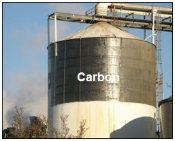 The hoop strength in the walls that was lost due to corrosion was added back with the carbon fiber composite.
Results:
Coordination between the plant operations and maintenance staff and the installation team led to a successful repair with no production impacts. The tank was wrapped in carbon fiber in less than 30 days.