Columns
Column Strengthening
Project:

The building on Main St. in the historic section of downtown Yuma was being renovated. The project required an increase in the load capacity of structural columns to support renovations and addition of the new "The Top of the Kress" roof-top bar and lounge.
Composite Solution:

First, the building load capacity, including the planned renovations, was analyzed and an FRP based system was engineered to meet the increased structural requirements.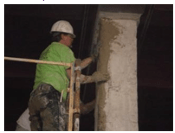 Next, the column surfaces were prepped for the addition of FRP. The work included adding a radius on the corners of the square column shape, abrasively cleaning the surface and priming the concrete.
In the final step, each column was wrapped with the carbon fiber system (FRP) to provide confinement strengthening in accordance with the engineering documents.
Results:
The building central column structure was strengthened using carbon fiber technology to support the increased load required by the planned renovations. The work was completed in 10 days allowing other planned construction activities to proceed on schedule.